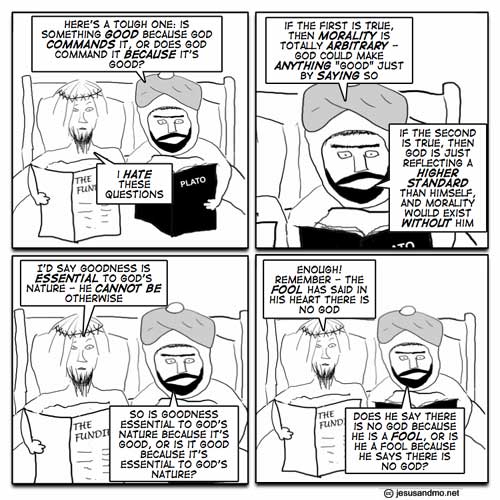 1. The Euthyphro Dilemma implies what about the properties of goodness?
2. What is Kierkegaard's (and Woody Allen's) existentialist point about Abraham and morality?
3. Does Baggini think it matters whether judgments like "pain is bad" are factual?
4. Did Sartre deny that human life lacks purpose or meaning?
5. Why doesn't Baggini think belief in an afterlife solves the problem of meaning?
6. What's the nirvana dilemma?
Discussion Questions
Can you admit the truth of cultural relativism without admitting the ultimate arbitrariness of moral judgments? If you insist on objectivity in morals, must you reject cultural relativism?
Which is the more important choice, Abraham's (to follow what he perceives as a divine command) or his peers' (to follow the rule of law and humane ethics)?
What do you think David Hume meant when he said reason is and should be the slave of the passions? Do you agree? Must reason and feeling be antagonistic or hierarchical?
Do you agree with Aristotle's characterization of a good person? 48
Do you agree that the mere fact of consequences is enough to "get morality going"? 49 If you were stranded on an island alone, would you still (in principle at least) be subject to ethical evaluation and accountability?
What do you think of the "nihilistic mantra"? 57 What's your answer to the question "why do you bother to get up in the mornings"? (See RD's reply...)
Do you believe your life has an externally-imposed and objective purpose? If not, do you regret that?
Is it possible to live meaningfully without goals?
Does evolution confer meaning?
Do you think most people lead meaningful-enough lives? Could they, if they appreciated life's simple goods?
Do you know any stereotypically-shallow atheists? (68) Or theists?
Do you want to live longer, or forever? Would your life mean more to you, if you did?
Who's your favorite celeb atheist?
Have you traveled in a place like the Czech Republic? Was it unpleasantly devoid of meaning?